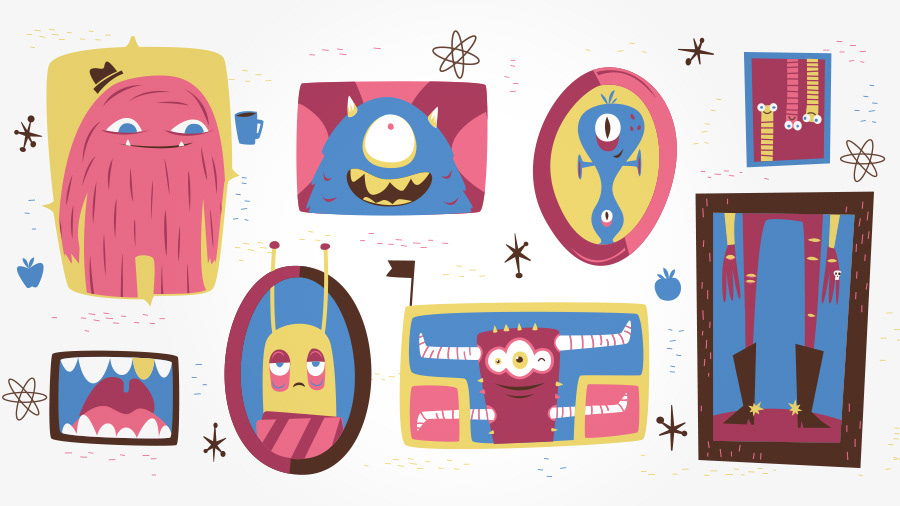 Estampas para o público infantil, com uma pitada de non-sense e que não sejam - necessariamente - politicamente corretas. Esse foi o briefing que veio junto com a ideia das linhas. As polêmicas acabaram ficando contidas, mas a diferenciação permaneceu acertada para o "pequeno" público. Esse foi um trabalho muito legal de realizar, viajei mesmo nele.
A imagem acima foi o quadro embrionário (já que estamos falando de recém nascidos também) para a linha dos monstrinhos. No fim, não virou uma estampa, mas guiou todas as outras dos monstros. Até porquê mal se enxargaria os detalhes na barriga, ainda que gordita, de um bebê.
É bem interessante criar criaturas (desculpe o trocadilho). Mas é difícil também, por ser algo extremamente livre. No fim, acho que saiu um mix do que eu entendo por "monstro", com referências já conhecidas e assimilidas no inconsciente, desde o Chewbacca até o o Mike dos Monstros S.A.
Este trabalho foi realizado ao convite de Bernardo Presser, quem tirou todas as fotos ao final deste post e que também criou estampas para a marca. Giancarlo Meneghini foi quem dirigiu o trabalho e é o cabeça da marca DoseVonBald.
T-shirt design for kids, with a great hint of non-sense and not necessarily politically correct. This was the briefing that came along the ideas of this collection's lines. The polemics didn't get in but differentiation was definitely there for the very young public. This was a very cool project to do, a fun mind trip.
The first image is the concept board to Monsters collection. It actually didn't get print, but became a guide for all monsters. By the way, all the detailing would have to be printed very tiny, even to cover a chubby baby.
It is always interesting to

create

creatures (sorry about the word play). But it is hard also, because it is something totally free. At the end, I think I got this mix about what I understand for a "monster", from already known references assimilated by my unconscious mind, from Chewbacca to Mike from Monsters Inc.
This project was an call from Bernardo Presser, who took the photographs at the end of this post. He also created his own designs for the brand. Art Direction by Giancarlo Meneghini, Dose Von Bald's CEO.